A PORTRAIT TO COLOR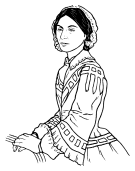 Click on the little picture to the right to call up a larger version. Then use your browser's File | Print commands to print. If you are using a Macintosh, scroll down the File menu to Page Setup, click, and set Reduce/Enlarge to 60%.
Or, download it as an AdobeAcrobat file.

WHAT DO LUCY AND LINUS THINK ABOUT FN?

Click on Lucy to read the cartoon.