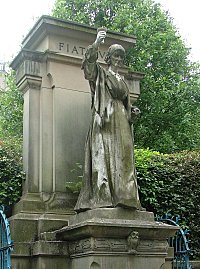 The Nightingale Memorial in Derby.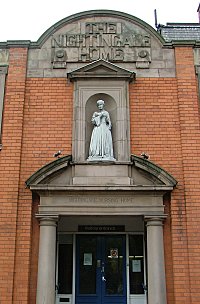 The Nightingale Nursing Home in Derby.

The "Nightingale Crochet Collar" from The Family Magazine.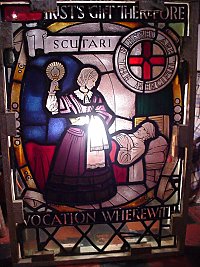 Portion of a stained glass window of unknown origin purchased in a UK antique store. Contributed by Iain Campbell.
From Sir Edward Cook's Life of Florence Nightingale:

The decoration of the Royal Red Cross had been instituted by Royal Warrant on April 23, 1883, and Miss Nightingale's attendance was requested at Windsor on July 5 to receive the decoration for her "special exertions in providing for the nursing of the sick and wounded soldiers and sailors."

The decoration was accordingly sent to her by the Secretary of State on July 17. It is now placed in accordance with directions in Miss Nightingale's will in the Museum of the United Service Institution.

On November 28, 1907, King Edward wrote with "much pleasure," to offer the Order of Merit "in recognition of invaluable services to the country and humanity." A suitable reply was framed for her, and on December 5, Sir Douglass Dawson, on the King's behalf, brought the Order -- then for the first time bestowed upon a woman -- to South Street.

On March 16, 1908, The Freedom Of The City Of London was conferred upon her -- hitherto conferred on only one woman, Lady Burdett-Coutts.

The Freedom of the City of London was originally the right to live in London without paying local taxes. In later times, it became a way of recognizing a person's outstanding achievements or qualitities. Usually the person is presented with a handsome scroll at a banquet. Because FN was old and could not leave her apartment people came to her for the presentation. She was given a scroll in a wooden decorated box.

The Florence Nightingale Pledge was named after her (but not written by her).

There is a Florence Nightingale Pub in London.

A Commemoration of Florence Nightingale was authorized for trial use by the Episcopal Church in 2000.

FN's parents named her after the town where she was born, Florence, Italy. Before that, no one was named "Florence." After she became famous, people started naming their girls after her. So if you're named Florence, you're named after Florence Nightingale.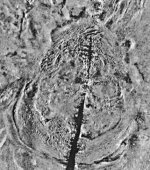 In the eighties, space probes discovered the Nightingale Corona on the planet Venus. A corona is a kind of volcanic feature.

The Order of Merit. Learn more.
| | |
| --- | --- |
| British postage stamp | Belgian postage stamp |

British £10 note, issued 1975-1992. The portrait is a blend of images taken from three photographs of Florence Nightingale embodying the pose of one, the costume of another and the head of a third. The historical scene shows Florence Nightingale ministering to the sick at the Barracks Hospital, Scutari.


U. S. Air Force C-9A Nightingale medical evacuation aircraft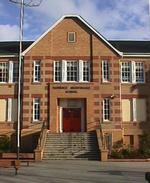 Florence Nightingale Elementary School in Vancouver, BC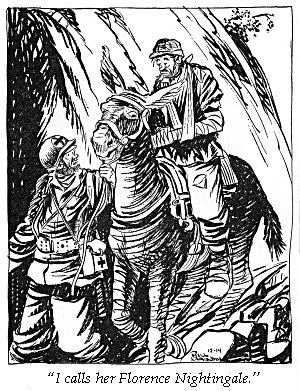 Bill Mauldin was in the infantry in World War II and drew cartoons like this one for the military paper Stars and Stripes.