The Zipper Wars
" L E T ' S P A R T Y L I K E I T ' S 1 9 6 9 "

"I'm a person out of my time. I would have much preferred being president during World War II."
-- Bill Clinton as quoted in Bob Woodward's book The Choice
Until war or peace is o-"fish"-a-lee declared we at Country Joe's Place shall continue to maintain this page.
As you may know, all media outlets are currently required by law to have Star Wars Episode OneTM tie-ins. Here's ours.
Getting Involved
War News
Madeleine Albright: Read Her Pins
A Ballad from Belgrade -- the view from the ground
Other Opinions -- links
America's Secret Weapon
Let's Have Bombing Fun -- a pop quiz and a survey
Fixin' to Die in Kosovo -- new versions of the Rag
Another Clinton Joke


---
Getting Involved

The Huddersfield Committee for Peace and Justice is organizing a major two-day International conference on the situation in Yugoslavia, to be held on 25/26 March, at Bradford University, England. More info here.

On Monday 10 May, 1999, Gabriel Carlyle, co-coordinator of Voices in the Wilderness UK, was sent to prison for an anti-bombing and anti-sanctions protest last December. Gabriel received a 45 day sentence for refusing to pay over £1000 compensation to the Foreign Office. On 17 December 1998, Gabriel and Andrea Needham threw fake blood onto the front wall of the Foreign Office - it was the second day of the US/UK bombardment. 45 days is the maximum penalty Gabriel could receive for his non-payment. He will be in prison until the beginning of June. If you would like to send Gabriel a message of support, please write to him at the following address.
Gabriel Carlyle DB 6387
HMP Wormwood Scrubs
PO Box 757
Du Cane Road
London W12 OAE
UK

You can send mail to any service member deployed in the Balkans at the following addresses:
USO Regional Office Atlantic
Attn:"Any Service Member"
Unit 29623
APO AE 09096

Any Service Member
Operation Shining Hope
APOAE 09308

Any Service Member
Task Force Hawk
APO AE 09348
Remember, Dear Abby says that American troops love chocolate chip cookies the best. And remember the modern Ameriican fighting machine is of all genders, hallelujah!

Find out what happened at the June 5th demo in San Francisco.
---
War News

The political newsletter Counterpunch has an article detailing who NATO killed.

The respected publication Defense & Foreign Affairs reports: "It is clear from the amount and quality of intelligence received by this journal from a variety of highly-reputable sources that NATO forces have already suffered significant losses of men, women and materiel . . .There is also a report that at least one US female pilot has been killed." Full text of this article is here. The Defense & Foreign Affairs Group of Publications began publishing in 1972 and is read by senior government, defense, intelligence and industry officials in more than 170 countries. --Linda Grant DePauw

Has a US general been captured by the Serbs? See if you believe this detailed account of a secret disastrous defeat for NATO.

A list of casualties and damages inflicted by NATO forces during the first month of bombing is here.

Read Grandpa Munster's thoughts about the war and much, much more.

Question: Betcha cant say how many countries are in NATO and what the names of those countries are! And as a bonus question, what does NATO stand for? Write your answer down on a 3" X 5" card and put in a sealed envelope and then click here and let me know if you won.

Super-hippie D. has a brother in the Air Force and he wrote an article about why he is proud to be an American in these times.

A picture is worth a thousand words. But you may not want to see these pictures of the results of "humanitarian" bombing.
---
Read Her Pins
From the July-August issue of The Art Newspaper: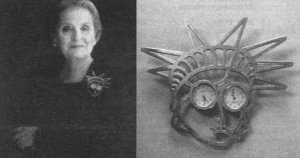 Madeleine K. Albright wearing the silver brooch "Liberty' (right), has earned her place in the history books by being the first woman to hold the position of US Secretary of State. She is also famous for her artist-designed brooches which she uses as semaphore. For example, a brooch in the form of a dove, which she wore at the recent Middle East peace talks, signals her desire for peace. Her jewellry has come to be closely watched by the US media. "Read my pins," she remarks. "Liberty" by the Dutch jeweller Gijs Bakker consists of two watches and conveys a message of Yankee candour: one watch is set upside down to allow Secretary Albright to to time her interviews; the other to show her visitor when it is time to leave. An international touring exhibition of her collection, "Brooching it diplomatically: a tribute to Madelein K. Albright" is at the American Craft Museum, New York until 8 August.
"This is a comment regarding Mad Madeleine's pins. I and a friend have been pin watchers for a long time. The one that first drew our attention was the eagle looking to one side, wings spread, with a pearl at the bottom of the eagle which represents world globalism. This same pin has been seen on Hillary, the Kennedy gal from Maryland (Lt. Gov.), and journalist Eleanore Rodham Clift just to name a few.
Recently, Mad Madeleine wore one of the most gaud awful pins I have ever seen. It even beats the one that is shown on this website for ugliness. The pin took up most of the left side of her shoulder, something that resembled a peacock (or a phoenix perhaps rising up out of the ashes?) with fine strands of gold chains hanging down from the bottom of the bird. It was ooogaly.
It's just a hoot watching these women wear their symbolic pins of world domination by the few annointed.
Regards,
Stella
February 12, 2000"
---
A Ballad from Belgrade
Nedeljko Drobac of Belgrade sent me this:
Live from Belgrade (exact location secret)

Kid with target at Belgrade demonstration.
Want your own target to wear around town? Call up this page and use your FILE|PRINT command.
God Save Us from the NATO Justice
Nothing to fear, nothing to worry,
It is an old, well known story.
Don't think too deep,
Don't lose your sleep
Just another nation goes to reservation.
Serbian people, they are so bad,
The world would be best if they were all dead.
Let's throw some bombs, lets burn them all,
Put them against or behind a wall.
Lets find a new desert, a new location,
Let's call it "The Serbian Reservation."
Don't think too long, don't think too deep,
Serbian land is now so cheap.
Croats, Albanians, come and get some
A piece of Serbia to every world's bum.
It gives me sorrow it gives me blues
Whenever I hear the CNN news:
Kid kills his schoolmates with a gun,
McGwire hits another home run.
The San Diego zoo got a new panda,
Eight-hundred-thousand killed in Rwanda.
Eight-hundred-thousand dead on the scene,
Is NATO going to intervene?
Give me a break, come on, get real,
They were all black, not a big deal,
Eight-hundred-thousand, their throats slit,
We all remember what Clinton did.
The support he offered was only moral,
At the time he was just getting oral.
In the case of Rwanda he was too slow,
But now he's ready for a final blow.
The peace on the Balkans someone disturbs,
So let's go there and bomb some Serbs.
Let's get Kosovo ethnically clean,
Ten percent Serbs, and they're so mean.
Lets kick them out to reservation
Kosovo is for the Albanian nation
Ten percent only, used to be more,
Seventy percent after Second World War.
After fifty years they almost all left,
Under the pressure, terror, and theft.
Some ten percent just wouldn't go,
Now Clinton's ready for the final blow.
Serbs from Croatia, Serbs from Bosnia,
We chased them all to little Serbia,
What Hitler started, lets get it done,
Let's go to Serbia and have some fun.
Let's test some weapons, cause some destruction,
Let's see what will be the Russian's reaction.
It'll be good for the bonds and stocks,
'Cause the market lately really sucks.
Let us create the New World Order
For every country, we'll write a new border.
Everyone has to dance as we play,
Or he'll become NATO's prey.
---
Other Opinions
Wondering if there are viewpoints besides the ones your Official American Media gives you? Check out these sites:
F R O M T H E B A L K A N S
War Against Yugoslavia @ INET -- good source of news from Belgrade
Free Serbia -- anti-Milosevic anti-NATO Yugoslav site
Radio Television of Serbia -- back in business after the bombing
Kosovo Reports on eGroups -- eyewitness accounts via anonymous e-mail
Radio Yugoslavia -- click "News" for English audio of the official line
TANJUG -- Belgrade news agency
Live B92 -- Belgrade underground radio, currently shut down
Academic Information Network -- Yugoslav scholars' site
InfoCorridor -- Yugoslav analysis
Serbian Ministry of Information news
Former Republic of Yugoslavia website
Serbian Unity Congress
Voice of Russia
Serbianna
The Emperor's New Clothes


A N T I - W A R S I T E S
Stop NATO web ring
Huddersfield Coalition Against the War (UK)
Manchester Against the War in the Balkans (UK)
Committee Against US Intervention -- a US conservative perspective
Kosovo questions from the Philadelphia Reform Party site -- right-wing loonies against the war
The Lost Website -- personal site with many links
Central Committee for Conscientious Objectors
Common Dreams NewsCenter Kosovo War coverage

T E C H N I C A L I N F O
Operation Allied Force -- from the US Department of Defense
NATO
Target Kosovo -- satellite images and tech stuff from the Federation of American Scientists
U.S. Joint Chiefs of Staff
U.S. Army
U.S. Air Force

T H E O T H E R W A R
Iraq Net
International Action Center
Iraq Action Coalition

---
America's Secret Weapon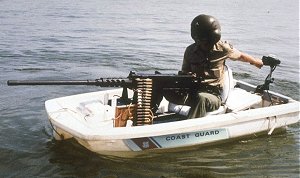 Like they told me in the United States Navy: "There is a right way, a wrong way, and a Navy way; and we are going to do this over and over and over again until you get it right." This photo is actually classified material but I felt that during the current global war some citizens might be wondering what philosophy motivates the United States Military in times of crises, and otherwise, to continue making the same mistakes over and over and over again. Yes, this is a well thought out plan. And in case any of you citizens are losing confidence in the ability of our Military Forces overseas to keep the barbarian hordes from our shores have no fear: the United States Coast Guard will never allow that to happen.
---
Let's Have Bombing Fun
An historical quiz and survey by Country Joe. Have you got the right stuff to take and pass the bombing quiz and survey?
The Quiz
Totals on a scale of 0-111:
0-5 = brain dead
26-35 = average
43-54 = super size
55-111= grade double AA extra strength -- go enlist

The following are the countries that the United States has bombed since the end of WW2. The list was compiled by historian William Blum. I have added 5 countries that we in our compassion have chosen not to bomb but one of those countries is a fake one I made up. Can you guess which ones?
China, Korea, Guatemala, Melnisia, Indonesia, Turkey, Cuba, Falkland Islands, Congo, Peru, Laos, Vietnam, Cambodia, Grenada, Tasmania, Libya, El Salvador, Iran, Nicaragua, Germany, Panama, Iraq, Sudan, Afghanistan, Yugoslavia.

Which countries had the unfortunate experience of being bombed by us twice since WW2?

Which country was our favorite country to bomb?

Which country did we bomb the longest?

In the last 54 years, since 1945, the United States has bombed a grand total of how many years worth of bombing? (All added up by time spent bombing individual countries in terms of years.)
3 years, 27 years, 43 years, 56 years, 72 years
The Survey
If you did well on the quiz, perhaps you're qualified to advise NATO. Send us your answers to our survey and we'll pass them along to our military authorities.

If you'd like to express your opinion in a way that might do some good, try writing President Clinton or Vice President Gore.

The results of my last poll are here.
---
Fixin' to Die in Kosovo
People have been rewriting the Rag for the war in the Balkans. Scott Lucado's version is outstanding:

This is probably what my mother, Florence McDonald, would be doing if she were around today.
Thanks to Dr. Salvador Murillo for the 1977 photo.

I Feel Like Theyíre Fixiní to Die

Well come on, all you Americans
The President needs your help again
He got caught taking Chinese dough
So he made a distraction in Kosovo
Letís load up the bombs
And gas up the planes
When itís all over, heíll explain

And itís one, two, three
What are we bombing for?
Donít ask me, I never ask why
My stocks have hit a new high

And itís five, six, seven,
Open up the pearly gates
Well, there ainít no need to ask Clinton why
It wonít be Americans who die

So Billís picked up a nasty itch
Not for Monica, but Milosevic
"Lies to his people while thousands die"
Which one is the real bad guy?
The story is good, and Willie sounds wiser
But then again so did the Kaiser

And itís one, two, three
What are we bombing for?
Donít ask me, I donít have a clue
TV reports are always true

And itís five, six, seven
Open up the pearly gates
Well, we can all just watch the show
Where exactly is Kosovo?

So now weíre messing in a civil war
That theyíve fought many times before
Lots of killing, lots of tears
Been going on for three thousand years
But Clinton says, "Letís stay the course
We just need to add some more force"

And itís one, two, three
What are we bombing for?
Donít ask me, Iím going back to sleep
Canít stay awake worrying about mission creep

And itís five, six, seven
Open up the pearly gates
Well, there ainít no need to worry why
Till Americans are starting to die

Read lots more Kosovo-related "Fixin's."
---
Another Clinton Joke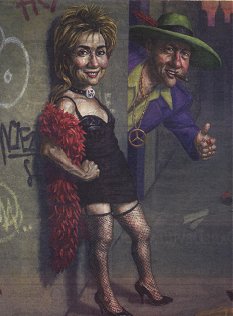 It takes a village to raise a child...
it takes a nation to raise the Clintons.
Illustration from the Village Voice.
EXECUTIVE ORDER
DESIGNATION OF FEDERAL REPUBLIC OF YUGOSLAVIA (SERBIA/MONTENEGRO), ALBANIA, THE AIRSPACE ABOVE, AND ADJACENT WATERS AS A COMBAT ZONE
Pursuant to the authority vested in me as President by the Constitution and laws of the United States of America, including section 112 of the Internal Revenue Code of 1986 (26 U.S.C. 112), I designate, for the purposes of that section, the following locations, including the airspace above such locations, as an area in which Armed Forces of the United States are and have been engaged in combat:
-- The Federal Republic of Yugoslavia (Serbia/Montenegro);
-- Albania;
-- the Adriatic Sea;
-- the Ionian Sea north of the 39th parallel.
For the purposes of this order, I designate March 24, 1999, as the date of the commencement of combatant activities in such zone.
WILLIAM J. CLINTON
THE WHITE HOUSE, April 13, 1999.