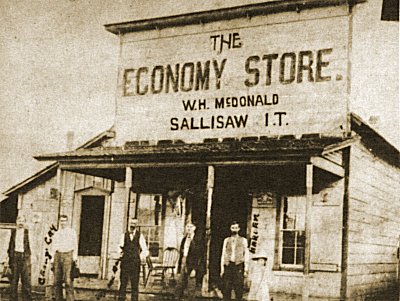 William Henry McDonald (3rd from left) and his store in Sallisaw, I. T. (Indian Territory)
Grace McDonald in The History of Sequoyah County, 1828-1975, published by the Sequoyah County Historical Association in 1976:
---
William Henry McDonald, born in Marion County, Alabama October 24, 1855, came to Indian Territory with his father, Alfred Stuart McDonald, his wife and other members of the family in 1878. They settled on a farm near Cameron, Oklahoma.

William Henry and Mattie Eubanks, who was born in Atkins, Arkansas, January 25, 1865, were married in Fort Smith January 19, 1884. To this union were born seven children, two of whom died in infancy -- twins 1896. The other children were Icie who died May 16, 1903; Mayme born October 13, 1886, died November 17, 1932 married Arch Matthews. Their children were Mack (deceased) and James; Edmund (deceased) born October 26, 1888, married Fannie Watts and to them came two sons, W. H. and Jesse; James L. born March 12, 1891, married Willie Crutchfield. Their children were James Logan, Allan Arch, and Jean; Grace born May 26, 1894, died 1951. Grace married W. L. Huggins and had two children, Mary Janice and Frank. After the death of Mr. Huggins, Grace married Max. Reager.

William Henry had three brothers, James Angus [Country Joe's grandfather], Alfred Green and Clayton and a half brother Burnie McDonald, two sisters, Mrs. Lou Porter, and Mrs. Alice Covey and four half sisters, Mrs. Alex Ritter, Mrs. J. D. Kelly, Mrs. Virginia Boyte and Mrs. Clem Evans.
After working in a store for Stone and McKenna in Fort Smith William Henry moved to Sallisaw, July 4, 1893, and established The Economy Store, the second general merchandise store in Sallisaw and by careful, diligent, and conscientious, business methods prospered, and eventually massed, what in that period, was a small fortune. Out of this business grew the McDonald Mercantile Company, later McDonald and Matthews. He established and was president of the Merchant National Bank. This bank later became the First National Bank with his son, Ed, president.
The depression and disaster to farmers, merchants, and bankers which began in the twenties brought about reverses and disaster to all involved. Rugged honesty and determination to save the institutions, in which he was interested, revealed a spirit of loyalty, integrity, and sacrifice. He put up all he had in an attempt to overcome the adverse tide, but it was a futile effort.
After the closing of the store, Jim, who says he grew up in the store becoming buyer and manager, moved to Chickasha, Oklahoma where he became a salesman for Hamilton Brown Shoe Company. Later he became a traveling salesman for Peters Brand of International Shoes -- a job he held for thirty years. To be near a college for his children he moved to Norman in 1933. After retirement he entered the Real Estate business in Norman. Jim, the only surviving child of W. H. McDonald lives in Norman with his wife, Billie. Ed was secretary of the State Highway Commission for several years. The bridge across the Arkansas River at Kerr Dam in Sequoyah County is named for Ed McDonald.
William Henry was not a "Quitter" Although he lost both business establishments, he opened a small feed store after working for sometime in the store he once owned for $50.00 a month. He built this into a general merchandise store which he operated over three years. He died April 13, 1930.
Mr. McDonald was a devout church man, a charter member, and elder in the Presbyterian Church to which he contributed much time and money. He promoted the construction of the present Presbyterian Church building in Sallisaw. It was men with the stamina, foresight, and integrity of William Henry McDonald that promoted the development of the town of Sallisaw.