About the DVD
Country Joe McDonald is no Woody-Come-Lately.
It's not just that the music of Woody Guthrie has loomed over his life since he was a child, or that he made his first Woody Guthrie tribute recording more than forty years ago, or that he has spent the past ten and more years polishing a solo theatrical presentation of Guthrie's life, writings and music, but Country Joe, in his steadfast yeoman work using music to defeat Fascism (and other scourges on the earth), has been carrying out the mission of Woody Guthrie in his life and work.
The filmed performance of the Country Joe show, "Tribute to Woody Guthrie," that took place September 2011 at the Freight & Salvage in Berkeley captures McDonald in full stride, along with an actual accompanying cast, a small amount of scenery, and more of a show than he ever before mounted around the basic material that he has been refining and perfecting since he first did the show in 2001.
McDonald sees a lot of himself in Woody Guthrie. Like Guthrie, Joe's father came from Oklahoma, both Midwestern farm boys who married East Coast intellectuals. He remembers the 78 RPM records of the Dust Bowl songs around his house growing up. He knows that his greatest work, "The Fish Cheer" and "Feel Like I'm Fixin' To Die Rag," lives and breathes in the spirit of Woody Guthrie.
After spending his life playing music for audiences, McDonald has sharpened his abilities onstage beyond some guy with a guitar and a few songs. His apparent informality before an audience disguises a knowing entertainer with a message in every song, a lesson in every performance, hidden behind caustic dry wit and self-effacing, unassuming directness. He is not so widely admired as many who are not his equal.
This Guthrie project has given McDonald a vehicle for his many gifts. He has always excelled as a story teller and Guthrie's life lends McDonald a subject he can really make his own. He sings Guthrie songs. He sings songs about Guthrie. He sings songs written by Guthrie's children. He reads from Guthrie's writing – both his public prose and his private letters. Woody is alive in his hands for ninety minutes. It is part history lecture, part song fest, part séance.
McDonald is the man for the job because, more than any other of the stars of Woodstock, McDonald has stayed true to the code. He has taken his guitar and songs wherever they could be sung, bringing music to people who wanted it like a doctor in the ghetto. He was there at strikes, protests and picket lines as much as nightclubs and rock concerts. He was the people's rock star with his own booth at the Berkeley farmer's market. Honest, humble, unbought, unbossed.
Woody Guthrie would have understood Country Joe in a heartbeat.
-- Joel Selvin
Review by Skip Demuth, of a March 8, 2007 performance in Langley (Whidbey Island) Washington.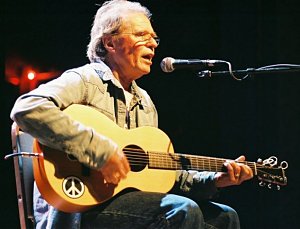 Photo by Bob Gersztyn.

In his highly entertaining Tribute to Woody Guthrie, Country Joe McDonald deftly conveys all the charm, talent, and social and political consciousness of the legendary folksinger from Oklahoma.

McDonald, whose father Worden shared Oklahoma's Dust Bowl roots with Guthrie in the 20s & 30s, opens the tribute with a moving performance Woody's best-known tune, "This Land is Your Land," and ultimately sings 13 Woody Guthrie songs, all in a strong clear voice that doesn't mimic Guthrie's style, but conveys the emotion and energy that defines Guthrie.

Country Joe's natural bond with Woody through music and politics allows him to read some of the quirky and intimate letters between songwriter Malvina Reynolds ("Little Boxes") and Woody Guthrie in 1955 when Woody was hospitalized with Huntington's Chorea in Brooklyn. He died in 1967. McDonald, who was neighbors with Reynolds in Berkeley, tells how he found these letters in the obscure folk journal Little Sandy Review.

A significant body of Guthrie's work resulted from his 30-day song-writing stint with the WPA in 1941. He was 28 and, while visiting the Grand Coulee Dam under construction, and traveling along the Columbia River in Oregon and Washington, he wrote his compelling songs -- anthems, really – "Roll on Columbia," "Ramblin' Round," "Pastures of Plenty," and "Grand Coulee Dam."

Country Joe's performance includes several of these songs, and audience participation.

McDonald reads from a column Woody wrote for the People's World called "Woody Sez," a funny piece showing Woody's amazement and pain at navigating NY City on nickels and dimes. These readings, sprinkled between songs, reveal Woody's inimitable humor through his experiences selling miracle cure potions, drinking low-quality moonshine, and the universal subject of car-breakdowns (Woody's beater "used a quart ever' time it backfired, an' 2 quarts when it run front ways.")

This Tribute incorporates all the good stuff, and the hard stuff, including Woody's sad decline from the disease he inherited from his mother, union struggles during the Great Depression, migrant life on the trail from the Dust Bowl to California, where you're in trouble if you don't have the "Do Re Me," a great Woody tune McDonald sings in the show.

The 90-minute performance, which includes an intermission, finishes with a reading from Joe's Dad's autobiography -- An Old Guy Who Feels Good (an inspired title for aging boomers). Worden (Mac) McDonald tells of his own musical aspirations, squashed by his father in a Dust Bowl childhood. Forty years later, in 1970, in a theater in San Francisco, he watched his son Joe sing "Fixin' to Die Rag" in front of a half-million people in the movie Woodstock, and thought "Its okay Papa, Everything's okay."

Country Joe brings to life Woody Guthrie, his father Mac McDonald, and Joe's own connections to Woody and the politics and music of our country's deep and soulful tradition of class division and struggle.

At the end, Country Joe sings Woody's "So Long, It's Been Good to Know Ye." Indeed.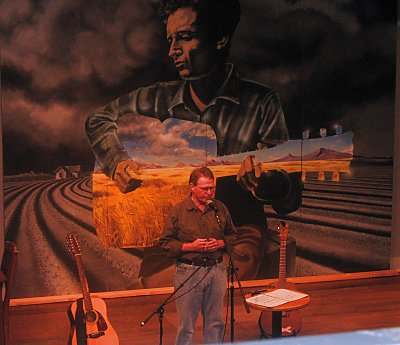 Performing my Woody Guthrie show at the Nevada Theatre in Nevada City in 2009. The painting behind me is by Adam Dryden; the painting is for sale and Adam can be contacted here. More about the painting.
Review by Joel Selvin of a performance in San Francisco from the San Francisco Chronicle (May 14, 2007).
Country Joe McDonald sees himself in Woody Guthrie.
Guthrie was an Oklahoma cowboy. McDonald's father was an Oklahoma cowboy. They both married East Coast intellectual women. McDonald remembers the old 78s of Dust Bowl songs from his home as a youth. He made the first-ever Guthrie tribute album at the height of his career as an electric rock musician, in 1969. In 2001, he wrote and first produced his "Tribute to Woody Guthrie" for the Steinbeck Center, then dusted it off recently for an extended nightclub run at Berkeley's Cafe de la Paz. On Saturday, he brought it back to an appreciative crowd at the Noe Valley Ministry, one of San Francisco's great secret concert halls, where he first previewed the piece six years ago.
McDonald knows Guthrie. In a two-act, 90-minute presentation, he weaves together Guthrie's best-loved songs and some writings from Guthrie's autobiography, his novel and his Daily Worker newspaper column. McDonald found some extraordinarily warm and witty correspondence between Guthrie and Berkeley folksinger Malvina Reynolds on the subject of chocolate chip cookies ("Cookies Talk Louder Than Words"). The piece from Guthrie's autobiography about him selling root beer during Prohibition almost sounds more like something out of Will Rogers or Mark Twain.
In a plaid shirt and bolo tie, strumming an acoustic guitar with a peace sign on it, nobody could be less affected than McDonald. He has clearly made serious study of Guthrie but presents the material with casual ease. He lays it out carefully, a deliberate cross section of material, and ties it all together, in an almost surprise ending, with a reading from his own father's autobiography.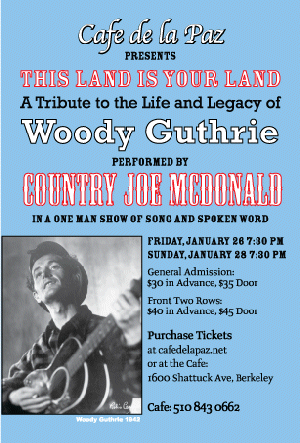 McDonald brings the Guthrie songs to life without caricature or mimicry. Opening with "This Land Is Your Land," he not only performed Guthrie's famed Dust Bowl ballads, but he also drew from his children's songs, country songs and union songs. He brought the first half to a close with "Woman at Home," a frankly erotic set of Guthrie lyrics McDonald set to music many years ago at the invitation of the Guthrie family.
Guthrie's best songs all have a revival fervor and sing-along choruses. His populist dreams and cornpone humor mirrored the conflict of '30s Americans, facing an increasingly mechanized future and the loss of traditional values. Ironically, Guthrie's songs -- and his message -- have never gone out of style.
McDonald channels this wry, compassionate man's wisdom without ever getting in the way, a refreshingly egoless performance by someone who remains as amazed by Guthrie as anyone.
---
From a fan:
Hello,
just got home from your Eugene show. I just wanted to tell you how much we enjoyed it. I was going to tell you in person at the reception time but there were people waiting in line, waiting to tell you their stories, and all I wanted to say was how cool it was to hear the music and the stories of your family interwoven with Woody's and the readings and the songs. We were a small audience, but should have been bigger! and if I had know that it wouldn't be full, I would have brought my parents, both in their 80's, who would have enjoyed it very much – Dad the history and Mom the poetry.
I appreciate that you have taken the time and interest to put together this part of American history and present it in this way. It was very moving, thought-provoking, and inspiring.
It was interesting to hear about Woody, but equally interesting to hear about your family. Thank you for sharing it with us tonight in Eugene!
Btw, I have that original Tribute to Woody Guthrie vinyl album you made in 1969!
T B
Eugene, Oregon
"Woody could write about Okies because he was one. It is the idea of a man of the people, playing music of the people in his own way; music that the people can relate to, that says what they can't say, but what they feel. Woody did this, and it enabled others to do it. That he was a genius at doing this is almost less important than him doing it."


Country Joe, as quoted in Zoe Trodd's new book American Protest Literature
---
About the Woody Guthrie boxed set.
Dust Bowl Productions, devoted to telling the Woody Guthrie story in various mediums.
"Woody Guthrie at 100" from the Washington Post.