Well, my year of retirement was good and now maybe I will un-retire a little bit. My autobiography was finished in its current state with the help of Jane Ganahl, but was not wanted by a few publishers or me for that matter so I will regroup and maybe work on it some more or not. I am thinking of 2015 which will be the 50th anniversary of my beginning to make albums and I know this is 2014. I think I might make another album this year even though the last years Time Flies By album was not much of a hit but very much enjoyed by me. So look here for further news ... or don't. Happy New Year!
-- Joe McDonald, January 1, 2014
---
APRIL


I will be singing at the Earth Day Orca Freedom Concert at the Experience Music Project's Sky Church in Seattle on Tuesday, April 22. With me will be Heart, Joan Jett and the Blackhearts, Arielle, Andrew Morse, and likely there'll be others. This is a benefit for the cause of freeing orcas imprisoned in amusement parks all over America and the world.
MAY


There's a benefit for the Berkeley Fellowship of Unitarian Universalists on Saturday, May 10 at the BFUU Fellowship Hall in Berkeley. I'll play and Hali Hammer will open. Get tickets.
JUNE


I will be performing my "Tribute to Florence Nightingale" on Saturday, June 7 for the nursing honor society Sigma Theta Tau in San Francisco.
See previous gigs.
At the Pete Seeger memorial at the Freight & Salvage. Photo by Judith Scherr.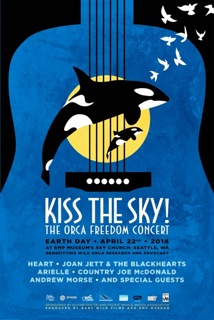 I sang the National Anthem at the A's vs. Angels game last July at the Oakland Coliseum.
SAVE THE DATE!
THE GREATER BAY AREA AND REGON 1 CHAPTERS OF SIGMA THETA TAU
With co-sponsor Omicron Delta Chapter (University of Phoenix)
Invite you to attend a Research & Continuing Education Program for
STTI Chapter Members
Date: June 7, 2014
8:30-4:00 PM
Location: Embassy Suites San Francisco Airport South
Program Theme: Promoting a Healthy Work Environment
Keynote Speaker: Carol Huston, DPA, MSN, MPA, FAAN, Past President, STTI, & Director, School of Nursing, California State University Chico
&
Very Special Guest-Music Icon Country Joe McDonald A Presentation & Performance Honoring Florence Nightingale