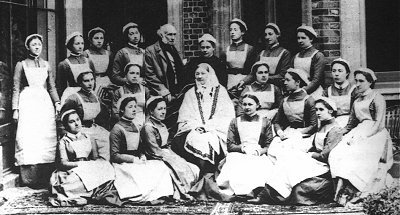 Sometimes Florence Nightingle would take the entire class of nurse probationers from the Nightingale Training School at St. Thomas Hospital on holiday outings to Lea Hurst. This photo was taken on such a day with an older Miss Nightingale and Sir Harry Verney, who was active in the school and the Nightingale Fund which supported the school independent of the hospital.
The Badge of the Nightingale Training School.
Introduced by Dame Alicia Lloyd Still in 1925, its design is taken from the eight-pointed cross of the Knights of the Hospital of St. John of Jerusalem. Its four arms symbolize the Cardinal Virtues -- Prudence, Temperance, Justice and Fortitude -- and the points represent the Eight Beatitudes which spring from the practice of those virtues. The color blue was chosen as being the color of the ribbon of the Order of Merit of Miss Nightingale. The inclusion of the Tudor rose, fleur-de-lis and the shield with the sword of St. Paul afford a link with the Hospital coat of arms. The center of the design portrays the head of Miss Nightingale in relief, with the words, "Schola Sancti Thomae."

To be a good nurse, one must be an improving woman; for stagnant waters sooner or later, and stagnant air, as we know ouselves, always grow corrupt and unfit for use. Is any one of us a stagnant woman?
-- Address to the Probationers (students) of the Nightingale Training School at St. Thomas's Hospital, London, 1872. FN wrote many addresses to the students but never delivered any in person.
The normal time the students spent in training was one year. The students lived in private rooms with a common social room in a special area of the Hospital. They attended classes and the sick at St. Thomas. There might be 20-30 students in a yearly class. There were two kinds of probationers. A Lady, an upper class woman with some education could purchase the opportunity to attend the school; a common class woman could serve as student and receive expenses plus a small amount of money upon completion and placement in an institution or home. They all wore a uniform and were under charge of a Matron and an assistant. Miss Nightingale had students upon graduation visit her in her South Street apartment. This was a very cherished moment for few people met her face to face after the Crimean War. And always the student would leave with a gift of food or clothing or something FN felt she needed. FN kept extensive notes on all the students including "character." In fact it was the issue of character that caused her to oppose "certification" of nurses and a "registrar."
~~~
Around 1990 when I first visited the newly opened Florence Nightingale Museum in London I picked up the below information. Graduates of the school were once called "Nightingales," but no longer. --CJM, March, 1999

---
The enclosed notes are an attempt to chart the spread of the Nightingale influence up to 1910. Much more research needs to be done if the map is to grow.
Migration Of Nurses Trained In The Nightingale School
THE BRITISH ISLES:

Belfast:
Union Infirmary
Miss Ella Pirrie, Lady Superintendent

Children's Hospital
Miss Jessie Lennox, Matron

Belfast Board of Guardians' Sanitorium, Whiteabbey
Miss Hamilton

Birmingham:
General Hospital
Miss Alice Fisher Matron, followed by Miss Lovesy, Matron

Cambridge:
Addenbrocke's Hospital
Miss Alice Fisher Matron

Canterbury:
The Kent and Canterbury Hospital
Miss J Gardiner, Matron, & staff of Nightingale Nurses

Edinburgh:
The Royal Infirmary
Miss Barclay, Matron, & staff of 13 Nightingale Nurses, followed by Miss Pringle, Matron and Miss R. Williams, Asst Matron

Lincoln:
The County Hospital
Miss E Vincent, Matron

Liverpool:
The Royal Infirmary
Miss Merryweather & 3 of the first set of probationers and 1 of the second set

Workhouse Infirmary
Miss Agnes Jones & staff of 12 followed by Mrs Kidd, Asst Superintendent; Miss Louisa Freeman, Superintendent

London:
St Bartholomew's Hospital
Miss Maria Machin Matron & Superintendent of Nursing; Miss Helen Blower; Asst Matron; Miss Isla Stewart

St Mary's Hospital Paddington
Miss Rachel Williams

Westminster Hospital
The Misses Mary & Elizabeth Merryweather followed by Miss Mary Pyne

St Marylebone Infirmary
Miss Vincent (Matron) -- Training for Workhouse nursing sponsored by the Nightingale Fund

St Pancras Workhouse Infirmary
Miss Torrance, Matron, and 9 Nightingale Nurses

Netley:
Royal Victoria Hospital
Miss Deeble, Matron, & staff of 10 Nightingale Nurses

Newcastle-upon-Tyne:
Fever Hospital
Miss Alice Fisher, Superintendant

Oxford:
Radcliffe Infirmary
Miss Alice Fisher, Matron

Shadwell:
Children's Hospital
Miss H. MacKenzie, Matron

Winchester:
Royal Hampshire County Hospital
Miss Freeman & 6 Nightingale Nurses

Wolverhampton:
The General Hospital
Miss E. Staines, Matron
Between 1879 and 1895 matrons trained in the Nightingale School were appointed to:
The Cardiff Infirmary
Cumberland Infirmary, Carlisle
Dorset County Hospital
Glasgow Royal Infirmary
Huntingdon County Hospital
Leeds Infirmary
Margate Royal Infirmary
Salisbury Infirmary
Swansea Infirmary
EIRE (IRELAND):

Dublin:
City of Dublin Hospital
"...Sister S (Sister Ophthalmic) elected as Matron of the City of Dublin Hospital" -- Letter from Miss Gordon, Matron, St. Thomas' to FN

Fever Hospital
? Matron

Dublin Rotunda
Miss Ramsden, Matron; Miss Maria Mitchell (Theatre Sister)

CANADA:

Montreal:
Montreal Hospital
1875 Miss Maria Machin, Matron, with 4 nurses, 2 more sent later. Experienced great difficulties & returned 1878

UNITED STATES OF AMERICA:

Philadelphia:
Philadelphia General Hospital
1884 Miss Alice Fisher, Matron -- set up the first School of Nursing, 1885; Miss Edith Horner, Associate Chief Nurse

Hospital of the University of Pennsylvania
Miss Charlotte Hugo appointed Superintendent 1886 -- set up a new Nurses Training School with a staff of Nightingale Nurses -- Mrs Horrocks (Night Superintendent), Misses Bellamy, Swallwell and Adams

AUSTRALIA:

Sydney:
Sydney Hospital
1867 Miss Lucy Osborn appointed Lady Superintendant; Miss Turiff, Asssistant, & Nightingale Nurses: Barker, Blundell, Chant and Miller

FIJI:
The Colonial Hospital
1892 Miss Frances Webberburn, Matron. Commenced a nurse training programme in 1892 for European nurses
The Nightingale School: Foreign Probationers
The Nightngale Fund Committee accepted probationers from other countries with the stipulations that they should be preparing for some constructive nursing work in their own countries and have sufficient command of English to understand the instruction.
DENMARK:
A Danish nurse, Henriette "Henny" Tscherning (1853-1932) trained in the face of family opposition, qualifying in 1878. She visited the Nightingale School at St Thomas' Hospital in London in 1883 and returned to Denmark where she made a very considerable contribution to nurse education and founded the Danish Nursing Association.
FINLAND:
Baroness Sophie Mannerheim (German born) entered the Nightingale School as a probationer in 1899 and spent 3 years at the Queen's Institute for District Nursing. Returned to Finland to become Matron of a large Surgical Hospital at Helsingfors (Helsinki) where she set up a preliminary training school. President of the International Council of Nurses 1922-25. Died in 1928.
SWEDEN:
Emily Carolina Rappe joined the Nightingale School for training in 1866. She returned to Sweden to take up a post at a new hospital at Uppsala and later became Inspector of Nursing Schools. Was awarded the Gold Medal for "distinguished services".
GERMANY:
In 1868 the German Crown Princess, Queen Victoria's eldest daughter, sent Fraulein Fuhrmann to the Nightingale School; she later directed a nursing institution in Berlin. In 1872 two probationers trained and returned to set up a nurse training institution in Darmstadt. The Grand Duchess of Baden sent Frau von Cornberg from Baden. Miss Nightingale maintained close links with the Institution of Kaiserswerth on the Rhine.
FRANCE:
Links with:
Bordeaux (Association Florence Nightingale, Bagatelle)
Montpellier (Papers by Dr Anna Hamilton, Faculty of Medicine, Montpellier
Nightingale Nurses Serving Abroad:
EGYPT: TEL-EL-KEBIR
Miss Nightingale in her Letters to Probationers refers to two sisters serving on a Hospital Ship and others who volunteered for Egypt, 1882.
WITH DR LIVINGSTONE:
In a letter to probationers dated 1874 Miss Nightingale writes:
"Some of us knew him (Dr Livingstone); one of our Probationers was with him and his wife, who died in 1862, and Bishop Mackenzie, at their Mission Station in Africa..."
TRANSVAAL:
Lady Makins (nee Kirkland) entered the Nightingale School after her first husband, General Fellowes, died in 1879. Florence Nightingale selected her to accompany Sir Frederick Roberts' force to the Transvaal in February 1881. Later served in Egypt and in the South African War. Royal Red Cross 1884.
ZULU WARS:
Edith Horner was a member of a Nursing Unit sent from England to South Africa to care for British wounded. Royal Red Cross.
BOER WAR:
Miss Gordon, Matron of St Thomas Hospital, to Florence Nightingale: "...Nurse McL...to a convalescent home for officers."
Wars:
Miss Nightingale was consulted on the care of the wounded in connection with the American Civil War, the Army in India, the Franco-Prussian War, campaigns in Egypt and the Sudan, and the South African War. She had a direct influence on the drafting of the Geneva Convention 1864. Jean Henri Dunant,founder of the International Red Cross, 1872, paid tribute to her work.
Bibliography:
The Hospital: A Social and Architectural History
John D Thompson and Grace Goldin
Yale University Press 1975
Florence Nightingale's Nurses
Lucy Seymer
Pitman Medical Publishing Co Ltd 1960
Florence Nightingale and the Nursing Legacy
Monica E Baly
Croom Helm 1986
Miss Nightingale's Young Ladies
Freda MacDonnell
Angus & Robertson
The Illustrated Sydney Hospital Gazette Extraordinary
Bicentennial Edition 1988
The First Fifty Years: Training School For Nurses
Hospital of the University of Pennsylvania
Mary Virginia Stephenson
Philadelphia 1940
The Double Frill
The History of the Philadelphia General Hospital School of Nursing
Stephanie A. Stachniewicz RN MS NHa & Jean K. Axelrod
Privately printed by The Alumni Association of the School of Nursing
Philadelphia General Hospital 1978
The Belfast City Hospital
Booklet printed to celebrate the inauguration of the Tower Unit 1987
One Hundred Years of Caring 1873-1973
The Royal Belfast Hospital for Sick Children
Privately printed 1973
Miss Pyne: Aunt Mary
Compilied in 1975 by her great-niece Alicia C Percival
Privately printed
Cathedral College and Hospital: An Account of the Chaplaincy of the
Royal Hampshire Country Hospital 1(?)36-1986
Cyril Moxley
Privately published 1986
Data from the Medical Library, Royal Hampshire County Hospital
Ms Margaret Skellern
From Circle The Magazine for the West Lambeth Health Authority, Issue , 1983 -- report on a visit from the High Commissioner for Fiji to St. Thomas Hospital
God Bless You, My Dear Miss Nightingale
Letters from Emmy Carolina Rappe to Florence Nightingale 1867-1870,
edited by Bertil Johansson
Published bAlinquist & Wiksell International, Stockholm 1977
Paper by Dr Anna Emilie Hamilton presented and published under the auspices of the Faculty of Medicine of Montpellier, 1900
Florence Nightingale's Letters to Probationers
The Nightingale Training School Centenary 1860-1960
Private publication for the Nightingale Training School 1960