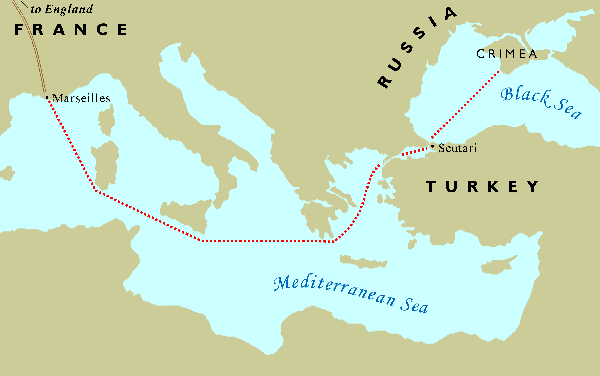 The Nightingale party came by rail across France as indicated. Troops would have come by ship through the Straits of Gibraltar.
The year that FN spent in the area of the Black Sea was the worst winter in 100 years. The climax was on November 14th when a hurricane almost totally wiped out the British and French naval fleets. The Nightingale party was 38 nurses made up of secular hospital nurses in a brown uniform designed by Nightingale (one size fits all) and hats that some of the nurses came to hate, and religious order nuns, one group in black habits and one group in white habits, plus her rich, reformer friends Selina "

" and Charles Bracebridge, who went as chaperones to the 34 year old FN. It seems that there also was a courier and perhaps a translator.
The boat they caught for the trip through the Mediterranean was the Vectis, a converted mail carrier considered unseaworthy. It was a steam-powered vessel. The trip was rough, the galley was torn off and things had to be jettisoned during terrible rough seas. FN suffered sea sickness and never came up topside during the voyage. Many others of the party were terribly seasick.