Women who died in the Vietnam War.


Look at my nurse doll collection.
In the summer of 1981 I attended a weekend seminar on the problems of Vietnam veterans. The event was sponsored by the Berkeley Veterans Assistance Center and took place in the City of Berkeley Veterans Memorial in the civic center. It was a lightly attended event but featured movers and shakers in the veterans movement who would soon change just about everything for the better. One speaker was a Vietnam War nurse named Lynda Van Devanter, who was the first Vietnam War nurse to "come out" and speak for women in the military. As a member of the audience I was stunned at the realization that I was also guilty of ignoring women in the military in my writings.

I went home and looked in the World Book Encyclopedia under nursing. I found Florence Nightingale. In a brief biography it said that in 1854 as a grown woman she had taken 38 English women off to nurse wounded and sick British soldiers in the Crimean War. And that she suffered a "nervous disorder" for the rest of her life. She lived to be 90 years old and was considered the inventor of modern nursing. I immediately went to Holmes Books in Oakland and found an autographed copy of Sir Edward Cook's biography of Florence Nightingale. And I promised Lynda and other Vietnam War nurses I knew that I would write songs about them.

In the years since then, I have written four songs about nursing, including "Lady with the Lamp." I visited Florence Nightingale's home at Embley along with her gravesite at East Wellow, her summer home Lea Hurst, the Selimiye Barrack Hospital in Turkey, and Kaiserswerth in Germany. I began work on a major film treatment of her life. I am still working on that film treatment and am still a student of her life.

I now have a 50-minute one person show titled "Country Joe's Tribute To Florence Nightingale And Nursing" which includes my songs about her and in her own words and mine and others tells the story of the Lady With The Lamp. If you would like me to come and perform this at your event e-mail me.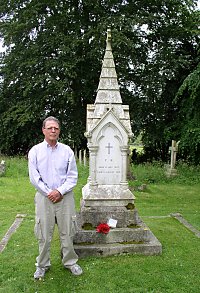 At Nightingale's grave. Photo by David Bennett Cohen.