Genealogy

From Florence Nightingale, I.B.O'Malley, 1931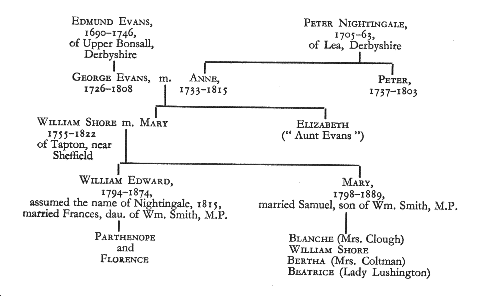 From The Life Of Florence Nightingale by Sarah Tooley:
Miss Nightingale's real family name was Shore. Her father was William Edward Shore, the only son of William Shore of Tapton, Derbyshire, and he assumed the name of Nightingale, by the sign manual of the Prince Regent, when he succeeded in 1815 to the estates of his mother's uncle, Peter Nightingale of Lea. This change took place three years before his marriage, and five before the birth of his illustrious daughter.

The landed possessions of Peter Nightingale extended from Lea and beyond towards Matlock. The ancient Manor of Lea, included the villages of Lea, Dethick, and Holloway, and passed through several families before it became the property of the Nightingales.

Through her Shore ancestry Miss Nightingale is connected with the family of Baron Teignmouth. Sir John Shore, Governor-General of India, was created a baron in 1797 and took the title of Teignmouth. Another John Shore was an eminent physician at Derby in the reign of Charles II., and a Samuel Shore married the heiress of the Offleys, a Sheffield family.

It is through her paternal grandmother, Mary, daughter of John Evans of Cromford, the niece and sole heir of Peter Nightingale, that Florence Nightingale is connected with the family whose name she bears. Her great-great-uncle, Peter Nightingale, was a typical Derbyshire squire who lived in good style at the fine old mansion of Lea Hall. When Peter Nightingale died his estates and name descended to his grand-nephew, William Edward Shore, Florence Nightingale's father.

Florence Nightingale's mother was Miss Frances Smith, daughter of William Smith, Esq., of Parndon in Essex, who for some years was M.P. for Norwich. He was a pronounced Abolitionist, took wide and liberal views on the questions of the time, and was noted for his interest in various branches of philanthropy.

Mr. and Mrs. Nightingale had only two children: Frances Parthenope, afterwards Lady Verney, and Florence, about a year younger. Born in Europe on honeymoon in 1819 and 1820.

The area around Lea