Embley Park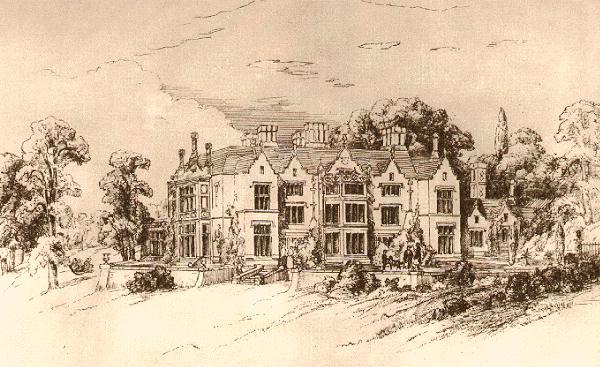 A sketch of Embley Park by Parthenope

FN told America's first woman doctor, Elizabeth Blackwell, as they walked and talked together on the grounds of Embley Park, "You know what I think every time I look at this building? I imagine if it was a hospital and how I should arrange the beds." To give you an idea of the scale of the home, in front on the outside patio are four figures all fresh back from the Crimean War: a dog, a drummer boy and two of the wounded soldiers all whom became her special charge. She said Lea Hurst (the family summer home) was small, it "only had 14 bedrooms." Embley Park could put up numerous families and servants for weeks at a time.

In 1825 Embley Park came up for sale with its 3,700 acres of land. Excerpts from the Bill of Sale:

EMBLEY
comprising
a capital of and convenient
MANSION HOUSE

On the ground floor in front a Hall, Vestibule and Dining Room, and in garden front three excellent rooms en-suite, and two other Sitting Rooms and spacious Music Room in first floor; airy bedrooms and apartments and attics over same.

The domestic offices are spacious and fitted up with great attention to their various needs.

Also suitable and convenient attached and detached offices, stables, coach house; together with wall garden, greenhouse, etc., etc., lawns and pleasure ground, abounding with American and other choice plants and shrubs. the whole in perfect order and repair having been many years the constant residence of the late proprietor and still occupied.

And the following demesne lands.

John Petty, Tenant, Brook Cottage, Near Long's Bridge. This is a roomy, modern built ornament cottage with small plantation, well adapted for the residence of a Keeper.

[...]

LAND TAX


£56 per annum East Wellow, £15.5s West Wellow. Also 8/- p.a. rent to the King for Burforts, a small 26 acre holding worth £45.

[...]

PLANTATIONS


"Gardens 1790 to 1810, many miles of gravel drives, 1,300 acres planted. The Grotto finished with stones and shells having in front a basin with gold and silver fish, a pyramidical fountain, and an American garden and cottage attached. Drives commanding Southampton Water and New Forest."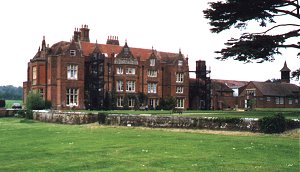 Embley Park as it appears today.

Since 1947 Embley Park has been a Registered Charity existing to educate young people. It is a coeducational school and David Chapman is the Headmaster. The building and grounds are very much the same as when Florence Nightingale and her family lived there. Once a year at and around the time of her name day, May 12, the school and grounds are open to the public for a small donation. For information write: The Head Teacher, Embley Park School, Romsey, Hampshire SO51 6ZE.
More about Hampshire (county). More about Derbyshire (county).