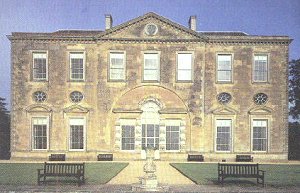 Claydon House, the home of Sir Harry Verney and Parthenope Nightingale, is located in Middle Claydon, Buckinghamshire. It is now owned by the National Trust and is open to the public from April to October. Tel. 01296 730 349. Visitor's information.
Ode to a Nightingale
by Lucinda Lambton
Claydon House in Buckinghamshire, built between 1757 and 1771 by Earl Verney, can be likened to a box of architectural fireworks: plain without, fizzling and sizzling in a variety of stupefyingly sensational styles within. If one house alone could be said to huzzah the structural and decorative splendours of the British Isles, then surely it should be Claydon, where Florence Nightingale, sister to a nineteenth-century Lady Verney, spent many happy years.
With room after room embellished with carved wood and plasterwork, all painted white, you are rendered almost senseless by the superabundance of icing sugar decoration, that makes you want to lick your lips with sheer delight, and gorge your way through all the fanciful confections. Rococo, Gothick, Chinoiserie and classical styles are all ragingly represented, often wrought together in a surreally rich mix. In the North Hall, wyverns of wood spread their wings on niches swirled about with Rococo foliage, fruit, faces and ho-ho birds. Cherubs leap from the ceiling, embracing axes and cannons, as well as muskets, swords and spears; every inch is carved in wood. As for the Chinese Room, where a carved couple enjoy tea in a lilting roofed alcove, smothered with wooden fruit, foliage, icicles and bells that swing at a flick of the finger, it is, without doubt, one of the most extraordinary rooms in the British Isles.
Added to this, Claydon can also boast an archive of 75,000 family papers dating from the fourteenth century as well as curiosities galore. Show me a juxtaposition as enchanting as the robe, slippers and air balloon-like hat of the 6th Sir Francis Verney (who became a pirate) - on display alongside a tiny shrivelled orange given by Florence Nightingale to a soldier while she was in the Crimea. So great was her brother-in-law's regard for her and so devoted was he to her causes, that he was known in Parliament as 'The Member for Florence Nightingale'.
Claydon was begun in 1757 by Ralph, 2nd Earl Verney, to the delight of a Rev. Samuel Rogers, who penned a poem on 'the magnificent seat' in 1782:
No more let Egypt's Pyramids Surprise
That crowd a Province & insult ye skies
No more his Walls ye proud Assyrian boast
Rais'd by ye labours of a countless Host...
One mighty fabric rais'd by Verney's Hands
Trancends Ecomium & unrivall'd stands.
The building was a particularly brilliant stepping stone in the history of the Verneys, who had owned land in Buckinghamshire since the thirteenth century, and who bought the manor at Middle Claydon in 1463. Thereafter there were colourful characters in abundance: the pirate Sir Francis, for example, had 'turned Turk' in the early 1600s, becoming a Barbary corsair; a buccaneer who 'fought several duellos '. Having been taken prisoner by Sicilians, he served as a galley-slave for two years. He was to die in wretched poverty in Messina in 1615.

Then there was the great and good Sir Edmund Verney, standard bearer to Charles I, whose portrait by Van Dyck hangs in the richly-plastered saloon. Fighting on the opposite side to his son during the Civil War, he vowed that 'By the grace of God, they that would wrest that standard from my hand must first wrest the soul from my body.' And so it came to be, when at the Battle of Edgehill in 1642, he was slain and his hand had to be hacked from his body to capture the flag. It was later recovered, still grasping the pole, and was returned to Claydon to be buried in the church that rises out of the lawns about the house. High over the altar hangs the very armour that covered the standard bearer's hand; still holding on to the pole after 358 years.

The Earldom was conferred on Ralph Verney for political prowess in 1743, and it was his Son - also Ralph - who was responsible for creating Claydon; a never-failing-to-startle-you-out-of-your-wits surprise to come Upon in the peaceful Buckinghamshire countryside. In his day Ralph must have cut an exotic dash thundering round the local lanes with his equipage; 'a brace of tall negroes, with silver French-horns, behind his coach and six, perpetually making a noise, like Sir Henry Sidney's "trompeters" in the days of Elizabeth, bloweing very joyfully to behold and see'.

His spending was prodigious; according to his protege Edmund Burke, his naive inability to master money was 'past all description, past all conception'. He had employed Luke Lightfoot as architect, master mason, surveyor of works and most especially carver, to create Claydon, but was to be tricked by him at every turn along the way; for behind this wizardry of woodwork had lain base and devilish conduct. Lightfoot, according to the architect Sir Thomas Robinson, was 'an ignorant knave with no small spice of madness in his composition... the more you sift into this...villain's conduct' he wrote to Verney, 'the more you will be astonished'. Lightfoot seldom went to Claydon; he bought costly materials and used cheaper ones on the house, lining his pockets ever more handsomely over the years.

When he was taken to Court by Lord Verney it was realised that out of the 30,000 that had supposedly been spent on the house, only 7,000 had in fact been used in its building. Both men were to suffer sadly through their profligacy: the great craftsman carver ending up as a victualler in Dulwich, while Lord Verney had to flee to debtor's exile in France. There is an account of him mournfully returning to the house in 1771, when 'a lad about the deserted stable at Claydon looked in at one of the cobwebbed windows of the great empty house, and saw his broken master passing through the fantastic derelict halls of his creation, to which he had been secretly brought for a last sight.'

Almost two-thirds of his palace had to be demolished 20 years later, but the state rooms remained. Today Claydon has been vibrantly restored by the National Trust, with its extraordinary exotic decoration still harboured within the chaste classical exterior that sits so comfortably in its English parkland setting. The sheep are still under the trees; the Verneys still live in the house; and the rich past of the place still resonates through the rooms.

Only this year a most marvellous addition was made to the Claydon collection, when, out of the blue, a diary written by Florence Nightingale was sent anonymously in a brown paper parcel through the post. In this tiny little red leather book she wrote of her travels between 1849 and 1850 that inspired her to take up nursing: most particularly her glimpses of Egypt, where in Alexandria she watched 'three hundred Arabs medicated and their wounds dressed'. She wrote of the desert as 'nothing but a burial ground and tracks of jackals digging up the bodies to show that human life had been there.'